I've written other blog entries about Molly, one of my neighbors on the second floor of the condo, where I spend my winters in Pompano Beach, Florida.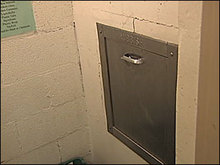 Molly, in her seventies, continues to use a walker for an astonishing level of mobility that I would still love to measure in terms of horsepower. The sound of the walker is the only means besides Molly's untempered, Teamster voice, to let the rest of us on the second floor know that she is in the vicinity. Molly's grand sense of entitlement has erased any obligation she may once have had to show courtesy to her neighbors, or anyone else. When she wants something, she wants it NOW, whether it means fixing her phone, helping her find her hairnet, or borrowing a cup of whiskey. She can be quite rude in her demands, often using language that would make a sailor blush, but one of her least sensitive practices has been that of taking her empty, glass, gallon wine jugs and throwing them down the garbage chute (daily) at the end of the second-floor walkway, where my condo is. As Molly never cushions the heavy glass jugs in paper, or bothers to walk downstairs (or by the elevator) to dispose of the jug in the recycling bin, the sound reverberates when it hits the steel bin. The first time I heard this noise, I honestly thought a bomb had gone off until another neighbor informed  me that it was only Molly throwing away her empty, gallon, wine jug.
That neighbor, up to her chin in Molly's shenanigans, finally had enough and threatened her with either a police report or bodily harm if Molly ever again disturbed the peace by hurling  another wine jug down that chute. Apparently, Donna's threats managed to penetrate Molly's hairnet, because now Molly drinks only boxed wines, which when empty and thrown down the garbage chute, then making impact with the steel bin, create only the gentle thud of consideration (or is it really the muffled nudge of fear from Donna's threat?).