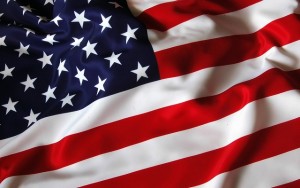 When I was a child, the concept of patriotism was a simple thing. It meant standing before our flag, reciting the Pledge of Allegiance, and singing God Bless America. It was something we all did together, perhaps because we were so young and naïve, but I do miss that feeling of unity and standing for something, however abstract, that we shared as a country together with all creeds, colors, nationalities and an ideal of freedom,  in the ritual of recognizing that we were all really just one, even if in a vastly theoretical oneness that made me feel safe somehow in a dream or model of brotherhood that we later seemed to lose along the way, perhaps in our increasing awareness of individuality and all its factions.
Now I feel some of the beautiful chill of national pride only occasionally at sports events when the crowd sings together. It's sometimes almost as though we feel shame for recognizing ourselves as a nation with its own speckled history of grand humanitarian strides mixed with stumbling blocks of ignorance and greed (as in every other nation). When we do stand before our flag, it isn't that we are excluding other nationalities, but rather embracing all who wish to be part of the best of our ideals and hopes.
England (with the United Kingdom), with a chronicle of over a thousand years, still does it best. When they sing their hymns and national anthems, there is something of their long history that touches every heart, not from vanity, but with a shared feeling of immense dignity and pride in standing as one people, regardless of color, accent, religion, or race. I long to feel that pride that I felt as a child about our own country, one for which there is still so much potential, if we can come together on some level ground, where personal prejudice is minimized by the overwhelming feeling of the beauty of the vast landscape and the shared prospects of its many people, with our almost limitless resources to help, rather than to hurt one another.
Here is a little video taken at Royal Albert Hall in London. It is most stunning when heard with earphones (as though you're there). See what unity and true pride look like in the English national hymn (Jerusalem) and God Save the Queen. If it doesn't give you chills, then your emotional freon supply has been sadly depleted. Enjoy.
Oh, and God bless America!
JB
https://www.youtube.com/watch?v=041nXAAn714