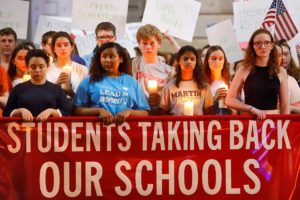 I'm growing more than a little weary of guns being the prime dividing factor in American culture. The Second Amendment, which I will quote here: "A well-regulated militia, being necessary to the security of  free State, the right of the people to keep and bear arms, shall not be infringed." has broad ramifications and possible interpretations, depending upon personal views of what it means to protect oneself and one's family. Two centuries later, we are no longer an agrarian society loading our muskets to shoot turkeys, each shot requiring rather a long loading time. Now weapons of war are available with not enough restrictions to halt the continuing mass murders that have the rest of the world looking at us in disbelief. If any mental virus by an enemy nation could have been created to invade reason, compassion, and a true sense of "safety," it would be the one created by, endorsed by, and sold by the NRA, which only relatively recently made the second amendment the holy grail of its platform. We've made seriously dangerous weapons easier to get into schools than peanut butter sandwiches.
One of the problems for me is that the 18th Century had no AR-15's, nor other weapons that could obliterate a staggering number of enemies (or innocent victims) in just minutes. Such gun owners today are not the martyrs of any mass conspiracy to snatch their weapons away and leave them unprotected. The martyrs are the dead, who have been slaughtered, those young and old, who might have been spared in at least some of the cases by universal background checks and more care being taken in the hierarchy of law enforcement to take purchases and thefts of such artillery more seriously.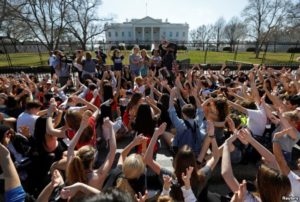 No one is asking that all guns be outlawed and seized by the government on any level, though this is the childish drama played out all too often. Law abiding citizens have the right to have guns, whether for hunting or for personal protection. That too is a very broad statement with enough details omitted that it sounds cozy and comfy. There is a middle ground, which we have not yet approached in creating safety for EVERYONE. All those deceased victims of gun violence had rights too, but we forget that fact in the mad rush to blame not having enough more guns to stop the murders. Those victims are not just abstract statistics. They were human beings, whose families will never really heal from the diabolical losses they suffered.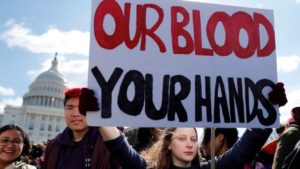 There has been pontificating on both sides of this issue, but if we give up and simply say nothing is going to change…without even trying…then we are certainly doomed to experience again and again the horrors of mass shootings, followed by the sickeningly sweet and prayerful regrets of gutless politicians still under the thumb (in the pocket) of the NRA.  If we as a nation are not all on the same team in our attempts to curb or eliminate such crimes, we are indeed at war with each other every bit as much as we were in the 1860's. Splitting hairs along with pointing fingers has not worked. I dread opening the newspaper and watching the evening news these days, waiting for the next massacre, replete with all the phony rhetoric and silly posturing that more guns are the only answer to the gun issue. I'm still waiting for a balance between compassion and common sense to prevail. I applaud all those who marched everywhere in our nation. I am seventy-two years old, but the young have inspired me and given hope that our tolerance level for murder has shrunk as much as it did after the gangster era in big American cities replete with machine guns (later outlawed) and Al Capone.  JB