Now in my seventies (65 plus shipping and handling), I have begun to notice that my short-term memory is beginning, here and there, to fail me. When I was still teaching high school classes (years ago), I was able to learn and remember thirty names during my first meeting with any class of new students and to learn at first introduction, the names of all the guests at a dinner or cocktail party. Now I've begun to have trouble remembering more than six names at a time. It's almost as though the little neurons in my brain are encountering more and more signposts that say, "Detour" or "Road Closed."

This morning I phoned the veterinarian's office to order more of Dudley's special dog food and heartworm preventative. The receptionist was new, introducing herself as "Robin," but in about six seconds my Etch-A-Sketch brain had already erased her name, even though I have a dear friend named "Robbin." I apologized for having to ask that she repeat her name and was grateful not to be dealing with my request in person, where she would see me blushing from embarrassment.
It's funny to me that I can recall, verbatim, long passages of poetry from fifty years ago and phone numbers from my childhood more than sixty years ago, but my short-term memory seems lately to be deserting me at those inopportune moments when I'm dealing with folks in person or over the phone, where a memory glitch can be as obvious as an old jalopy parked next to a Maserati. I don't really mind my hair having turned silver, but I do hate my first meetings with people to create the impression that my "upper floor" is not completely furnished for having a power of recollection shorter than a school teacher's summer vacation.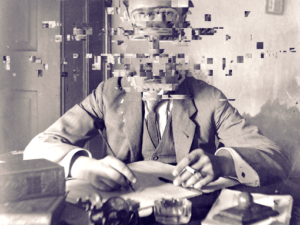 I do several crossword puzzles daily, read voluminously, and have rich and varied conversations with friends on topics from literature to current events. I do laps in the swimming pool daily and have a healthy diet, but despite my efforts, there are still instances regarding short-term memory (forgetting why I went from one room to another) that make me feel as though I'm at least two sandwiches shy of a picnic. Those are the painful moments that leave me, at least temporarily (soon to be forgotten) with a hopeless kind of hope, like leaving the porch light on for Jimmy Hoffa. Now who was he again?   JB