Human reaction to air temperature is a very relative thing. Though still a Hoosier (born and raised in Indiana) at heart, and accustomed to brutal winters on the southern tip of Lake Michigan, I have to say that my tolerance for what I used to believe was "cold" has been seriously modified. Having also lived in Colorado for ten years, I have undergone a major change in my response to what is chilly, because I spent half of those years as a snowbird, leaving the house in Centennial in early November to live in our Pompano Beach condo in Florida until May. In 2016 I became a permanent resident of "The Sunshine State," having become weary of the 2200-mile drive with the dog every six months before we sold the Colorado house.
Though Centennial has more sunshine than Miami, there is also a lot of snow, along with the occasional sub-zero temperatures. During the past five years, my body's thermostat has undergone some real changes in its reactions to heat and cold. I used to shovel snow in Indiana and Colorado wearing only a light down jacket, gloves, and a knit hat when the temperature was ten degrees and took walks when the thermostat registered zero. My gradual transformation to a thermal wuss really took only five years.
I used to chuckle to myself over the native Floridians, who would wear mittens, mufflers, earmuffs and anoraks when they saw the temperatures plummet to the low fifties. I must confess that I have now become one of those very climate-sensitive folks, perhaps because the mornings that dip into the fifties are so rare. Ninety-eight percent of the time, I now wear shorts and polo shirts. "Formal" occasions require light cotton slacks and short-sleeve shirts. Neckties are quite rare and seem to be used only at the time of one's death, so that I've had most of mine quilted into toss pillows.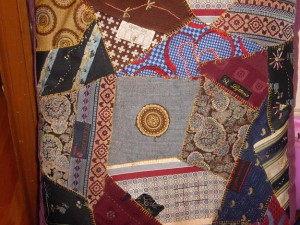 I always had a working fireplace before moving to Florida, but the one in the house we own in Oakland Park down here is, though make of brick, purely decorative. On Christmas Eve at our condo, where we enjoyed the holidays, I spent hours reading, while sitting in front of a large TV screen watching a video of a fireplace ablaze with crackling logs while I burned wood smoke- scented candles. The video lasted two hours, and I played it twice,  later adding the scent of balsam candles for extra olfactory effect.
We're all used to sitting in front of TV screens or radios, but those devices are fairly new, having been around only within the last century and now having become portable, so that folks are seen everywhere glued to their hand-held, electronic screens, often oblivious of whatever or whoever else is around them. For many thousands of years, however, human beings gathered around campfires, fireplaces, and potbelly stoves in communal experiences of warmth and shared stories. My attempts to recreate that ancient experience electronically is certainly synthetic, but I hope, nonetheless, that it achieves at least some of what our ancient ancestors enjoyed.    JB