The usual meaning of the phrase "over the hill" is in reference to a person's having passed his or her prime. It is an expression of at least mild derision with an overtone of dismissal after one has reached life's zenith of success and productivity. However, the words have a much different and more personal significance to me. They take me back to the first twelve years of my life and the times my family and I paid visits to my mother's favorite cousin, Jean Moore.
It was always summer when Dad, Mom, my younger siblings David and Connie, and I would pack our swimwear and beach towels, heading for Miller Beach in Northern Indiana's Lake County. Jean, her husband Clyde, their children Jim, Judy and Mike, along with Clyde's father Sam, lived on Lake Michigan in a cedar shingled house that was only steps away from a huge sand dune separating them from the beach and lake on the other side. We kids, with our parents, would scale the dune like intrepid explorers on those warm summer days, sliding back two steps for every three we attempted, carrying picnic baskets, a cooler of iced tea, our colorful beach towels and blankets and beach balls up to the crest of the hill where the air changed suddenly to a breezy coolness, even on the hottest days.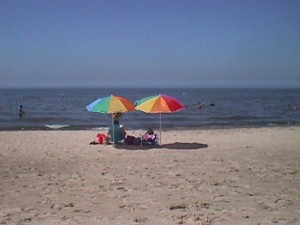 The fragrance of the water and sand was so invigorating during our easier trek down the other side of the dune to the beautiful white sand ,where our parents would spread out beach blankets with umbrellas, while we kids would head straight for the lake and inch our way into the clear water from icebergs melted eons before even our parents were born. It was the most wonderful part of what summer provided, besides the three-month parole from Warren G. Harding Elementary School.
When evening came, we always built a fire on the beach, roasting hot dogs and marshmallows while watching the sun disappear over what we kids imagined was the distant Illinois border, shadows and light flickering across our faces as the flames crackled, scenting the air with wood smoke. The climb up the hill again was the finale to our time outdoors as we saw lights of surrounding houses. Then we kids would play Monopoly or Old Maid at Jean and Clyde's house, drinking Kool-Aid and eating popcorn while the adults droned on about politics, sports, and fashion.
So the term "over the hill" summons for me those sensory recollections of a lovely part of childhood, and the make-believe mountain that, after a climb, would take us over the top into a kind of paradise, where cool breezes and shimmering water gave us a summer idyll that would remain among the happiest memories of being so young.   JB