All through school I was someone who didn't look forward to gym class. Competing with other boys at physical games, in races, and on tumbling mats was something for which I occasionally even faked illness to avoid.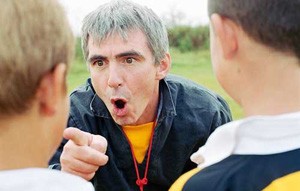 The ego-defeating experience in middle school of doing laps around the gym and hearing Coach Blint's sarcastic dictum of "Come on, Fluffy, this ain't no ballet!" has never left me, even in college, when I played tennis under the sneering instruction of Coach Barnes, who made us play outdoors in December snow wearing only our tennis shorts and polo shirts in order to "toughen" us up and mold us into "real men." That last phrase, simplistic and primitive as it is, has always intimidated me to the point of often, in groups of other men, making me feel I'm attending a party to which I wasn't really invited, and this is not in any way based upon other men trying to lower my self-esteem. There's never anything deliberately inflicted that should make me feel subordinate. The feeling of inferiority is already inside me, where it cowers at talk about football and golf scores, both sports of which I would happily give up in favor of a root canal or mild case of melanoma.
For these reasons I have generally gravitated socially toward groups of what society calls "men of academia," that safe stratum of manhood where conversation hovers around the twists and turns of verbal communication more than around what I see as distant, impersonal, abstract talk about sports teams, not one of whose players I know by name or who knows me either. And that isn't to say that an egghead can't be an avid sports fan or a superb athlete can't be intellectually gifted. Stereotypes work only part of the time, but somehow our society perpetuates a value system of people based too much upon black and white, overly conventionalized portraits of the way it believes men and women, respectively, are supposed to think and behave. No wonder there have been several feminist movements over the past century!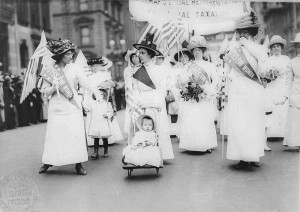 That brings me to the real reason for my writing this little essay. Though I'm not really much overweight, I've joined a gym, where I work out three mornings a week in order to tone up a body that, if left to its own devices, would eventually resemble a large potato. I've been working hard on the treadmill and on machines that provide resistance exercises targeting various muscles for this body, which will turn seventy this winter. The many men and women who work out there represent every possible age group and body type.
Everywhere are posted signs that read, "No Judgment," a message upon which I hope everyone there focuses from time to time. The locker room and showers are where the unadorned truth is most evident about the degrees of sculpted beauty achieved by the many participants with bodies resembling everyone from Frodo Baggins in The Hobbit to Adonis from classical Greek mythology.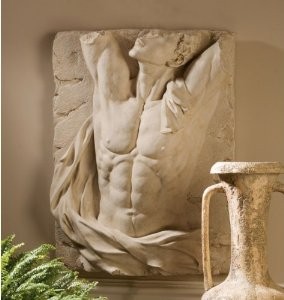 I remain somewhere between those two images and must leave it to the reader's imagination to summon whatever appearance he can. Maybe by next spring my confidence will be sufficiently improved that even the insults of my old coaches can no longer prove a menace to me.   JB