I am what some folks might call a junkie for a television show called House Hunters, a program dealing with people looking for homes to purchase.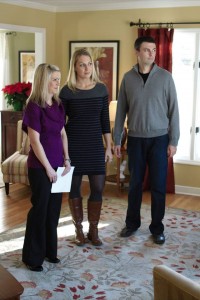 Part of my fascination is based upon a bewilderment regarding the clients of this program and how easily they seem to pay for houses and/or the necessary renovations, apparently from inexhaustible monetary resources. I have rather a grisly interest in watching others spend money in so cavalier a manner, while I sit in a reclining chair at home. Maybe there's also a connection to my loving to watch shows like Hoarders and Cops, much the same experience, I would imagine, as seeing exotic life forms on planets in other galaxies, so remote, they seem at times to be creations of science fiction.
One of the intriguing things about many of the young couples on House Hunters is their seemingly vast incomes, despite their weeping about having to stay within their budgets, which are often at $750,000 or more. From where do these people, often in their twenties or thirties, get such sums of money? Sipping a glass of chilled pinot grigio yesterday, I watched a married couple (on House Hunters International) in their thirties seeking a "vacation" home in Aruba. They crooned to the realtor about needing an oceanfront property but having a budget of "only" half a million dollars. Let me remind the reader that the quest was for a "vacation home." At that point, I couldn't help imagining the couple as drug smugglers or high-end embezzlers. I mean, where do people at that or any other age get that kind of income outside a comfortable trust fund? Beyond that, I was annoyed by the wife's whining about the necessity of a bidet in her own bathroom. Her husband's eyes rolled slightly, either in dismay or in a daydream about using the device as a cooler for the beers I was certain were his buffer against her other demands for redoing the house from top to bottom. The lovely quartz countertops in the kitchen and bathrooms, she said, would all have to be replaced by granite, and all appliances would have to be stainless steel, a common requirement that still mystifies me. Kitchens and bathrooms inevitably become "dated" every five years anyway, when the next bully decorator in New York snarls that something has become outmoded enough for hordes of homeowners to rush out to Lowes and Home Depot to purchase whatever is "in" at the moment, replacing whatever has been declared outdated by current decorator gurus of the newest kitchen crap.
 I usually end up talking to or yelling at the TV (depending upon how many glasses of wine I've had) that the house they passed up was actually the best bargain for their purposes and that the hen-pecked husband should just leave his shrewish wife.
I suggest that the already popular TV shows, House Hunters and Divorce Court could merge into a fantastic new program called either House Court, or Divorce Hunters, either one of which I would be only too happy to host, as long as there are plenty of beers chilling in the ice-filled bidet.   JB