I never thought that I would become a snowbird. All those years of shoveling snow and scraping ice in Northwest Indiana were part of who I was. The daunting task of facing brutal winters by getting up early to clear the driveway before going to work on time and making sure my sidewalks were also not contaminated by the white stuff was second nature to me as a Hoosier and then as a Coloradan after I moved to Colorado in early January of 2008. Facing Old Man Winter was just another of those rituals, like going to the dentist for regular checkups, just another unpleasant obligation.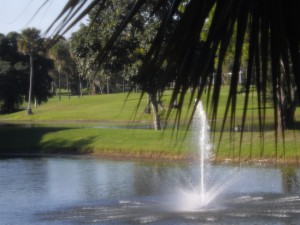 Then I visited friends in South Florida, where I and my partner Jim were intoxicated by the handsome condos we saw as well as the dazzling beauty of the flora and fauna, eventually purchasing a condo as a winter retreat for retirement, so that in our old age we wouldn't have to endure anymore snow and ice storms, unless Mother Nature became unhinged enough to create them during summer and fall, which we spend in Colorado.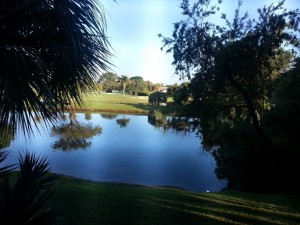 I've told many people that snow is still lovely to me on a Christmas card, or while I'm looking out a window,  sitting beside the fireplace with a nice brandy. However, snow loses much of its charm when it's on our driveway, or melting and then turning to ice on streets and sidewalks. I'm satisfied to see snow on the national weather reports or on a Charlie Brown Christmas Special, but the actual charm of snow no longer measures up to the backbreaking work it requires when one tries to keep it under control.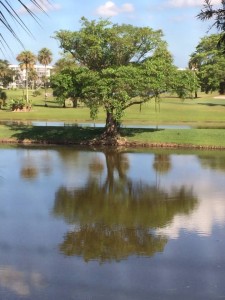 So here I am in Pompano Beach until May, when I'll return to the northern regions of our country and the majestic mountains of Colorado.
My only awkward transition from there to here each winter is the Christmas season, when I can't seem to get my mind around the lush greenery everywhere around me, juxtaposed to the occasional illuminated snowmen on front lawns, Santa in his sleigh, and candy canes with Christmas bells hanging from palm trees. It's almost like seeing an igloo in Honolulu. It simply doesn't work. But, I'm not complaining. I'll take the balmy ocean breezes down here over anything I've seen this past week from Buffalo, New York.     JB