Stubborn Remnants of Childhood
We all have childhood memories, some of which we actually share. It's wonderful when a friend says about something from many years ago, "Oh yeah, I remember that too!" Having grown up in Northwest Indiana, I find it difficult now as a resident of both Colorado and Florida to find people, who recall some of the same things with which I grew up, especially from the 1950's.
There have been times when people looked at me as though my top floor were completely unfurnished after my heartfelt descriptions of things like TV shows from that early era. For instance, there was in 1956 and 1957 an afternoon television program called, "Susan's Show," starring a twelve-year-old with a brunette page boy hairstyle, who showed Popeye cartoons and conversed with a library table named Mr. Pegasus, whose only drawer was the mouth through which he spoke, the drawer moving in and out to the sound of his voice. I'm not making this up!
For years I thought occasionally that I had merely imagined some of those Hoosier entertainments, but now in the age of Google and other means to achieve instant research success, there is photographic proof that I have not just fabricated those characters.
Another Chicago-based children's TV program from 1952 until October of 1976 was Garfield Goose and Friends, a show with puppets as characters depicting an ongoing narrative about a goose named Garfield, who thought he was king of the United States of America. This fantasy was bolstered by the other characters like, Chris, nephew of Garfield, who was born on Christmas Day (Christmas Goose), a sleepy bloodhound named Beauregard Burnside III, Romberg Rabbit, and Macintosh Mouse. The only actual speaking character was Frazier Thomas, the accommodating "prime minister," who humored Garfield's egocentric delusions by wearing a royal jacket with gold epaulets and many sparkling medals. The Little Theater Screen showed cartoons, like Clutch Cargo. Who would believe all this unless he has seen it for himself?
Then there was a program called, "The Happy Pirates," a noontime confection with two guys dressed up as friendly pirates, who sang, danced and showed cartoons, like Felix the Cat. One of the pirates was Two-Ton Baker, who would often sing, "I'm a Lonely Little Petunia in an Onion Patch." I'm not kidding!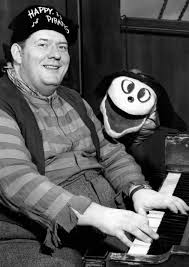 There were other more famous kids' shows, like Soupy Sales, Howdy Doody, and Pinky Lee, a live TV show on which I saw Pinky having an actual heart attack one afternoon during his funny dance routine, which the next day was front page news all over the nation.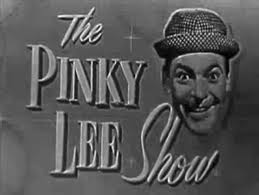 I have other memories of a collection of strange little books, a series by Betty MacDonald called Mrs. Piggle Wiggle, who was a kind of nanny with cures for every juvenile behavior problem from not picking up one's toys to bullying. The story that haunted me for many years was called, "The Radish Cure" about a little girl named Patsy, who absolutely refused to take baths or wash herself until she was encrusted by dirt so thick that Mrs. Piggle Wiggle planted radish seeds in Patsy's arms, legs, and on her head while she was asleep. Of course, the radishes sprouted until Patsy looked like a mobile vegetable garden. Horrified, Patsy eventually began taking baths twice a day. In the year 2000 I finally found and purchased that entire series of these bizarre little stories and use them now to prove I didn't just dream them up myself.
All of us keep recollections of childhood that are the most arresting, but perhaps we don't share them after we "grow up" and become, "level-headed" and more rational, afraid that others may think we are weird (which with any kind of luck we actually ARE). Nevertheless, those memories stay with us in one way or another, sometimes lingering just below the surface of our consciousness. They remain forever as parts of who we are.    JB