My sister Connie (February 12, 1953 – May 8, 2011) would have turned 61 This year.  She was always proud of sharing her birthday with Abraham Lincoln.  She is in my thoughts today, and I think she would appreciate the poem I composed for her.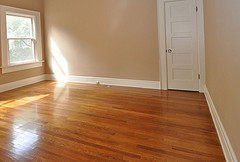 Foreclosure
The old house is empty,
and shadows streaking across wood floors
are longer now, uninterrupted
by chairs, sofas, or people.There are reverberations though,
of birthday parties, Thanksgivings,
joyful Christmas mornings,
doorbells chiming, telephones jingling,
those awful strains of our music lessons,
the meow of Tilly, and bark of Sidney,
and of Mom with the whir of her mixer making cakes.
Without curtains, the windows shed light
much too harsh in showing absences
of those we loved with that final echo
of the phone ringing to tell us that
Dad had stopped breathing,
forever.
The only remnant of all this
is my sister's doll, Phoebe,
sitting on that closet shelf since 1953.
"Where does the past go?" I ask,
but Phoebe only smiles, as if to say that
life is a gradual evacuation, until
all our rooms are empty and silent.
JB