Anyone training a dog knows perfectly well that a system of verbal praise, petting, and little snacks is necessary to achieve the best results. My dog Dudley is no exception. When he's bouncing around the back yard chasing squirrels, playing with our cat Riggs, or chewing on a Milk Bone, he probably wouldn't be distracted by anything less than a tsunami or a level-five tornado.
Dudley's concentration is, however, at its keenest when I'm eating. It doesn't matter if it's a stick of gum, or a dinner plate for myself that I'm trying to sneak into the den so I can watch Jeopardy. Dudley will be right there with an intense and unblinking stare with which even the most powerful laser beam couldn't compete. This speaks of a technique that all dogs understand, regarding the master ingesting any kind of food. It's called, "guilt." All dogs have a terrifyingly powerful ability to use this universal canine method of receiving shares of whatever is being consumed by their masters. The ability seems to be innate from puppyhood onward.
When I take a bite of food, whether it's oatmeal, salad, or ice cream, any food at all, Dudley's stare becomes so sharp and unyielding, it's as though he believes that if his gaze lasts long enough, the space between my fork and his mouth will magically turn into actual food. It's important, though, not to yield to this imposed culpability, however soulful the dog's eyes may appear. Giving in sets a precedent that is not fair to either the dog or his owner.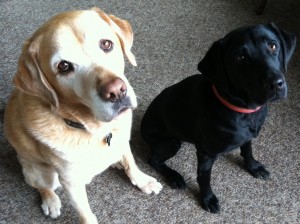 Whenever I have guests over for a meal, I always remind them not to give in to Dudley's stare, which will always be used first on unsuspecting newcomers at the dining room table. My rule of thumb is, "If you drop food or offer Dudley even a crumb, he will follow you around the rest of your life." I believe this is a universal law of nature, physics, or one of those books by Emily Post. I'm not sure which.    JB