This is a little excerpt from my second novel, Come on, Fluffy, This Ain't No Ballet. It speaks of our need to be thankful.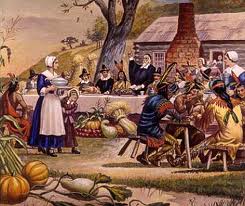 November was a gray month in 1963, full of the chill that made it easier for me to understand why early colonial settlers had placed such high value upon gathering together indoors before fires and sharing food in a mood of thanksgiving.  As Spartan as those early American homes were, the warmth of family and friends huddling indoors must have underscored the terrible contrast to the forbidding and icy winds outside.  No wonder there was a feeling of gratitude just at staying alive for yet another winter, gratitude for another log to burn, another ear of corn to eat, another door to close against high and threatening drifts of snow.  Such intense awareness and appreciation of simple gifts is surely much rarer in modern times, because we have become too spoiled and complacent to be grateful, too numbed by over-choice to be aware of what may be truly important and often too proud even to say "Thank you."
     My mother's parents would be joining us for Thanksgiving of 1963, and Mom was already in high gear to plan the dinner.  Every detail from linens to dessert had to be right, as having Grandma and Grandpa Starks as guests for any meal had become something of a competition between my mother and her sisters, each vying to have the most impressive menu, the best silver, and the most beautiful napkins.  In fact, Grandma and Grandpa were, I believe, perfectly aware of their daughters' attempts to top each other and rather enjoyed being treated like the Duke and Duchess of Windsor in each home. In the end, however, Thanksgiving became another chance for us all to be together, grateful for the company of those we loved, and happy to be in America.