This is from my book, Mum's the Word, Secrets of a Family.  It is the story of a family trying to hide the fact that the father is a raging alcoholic.  There is pathos but also humor throughout the book, which will be ready in June, 2013 as a paperback or Kindle on Amazon. The book will be available at Barnes & Noble beginning September, 2013.  JB
Chapter 11   Transition
Summer came and with it, Lake Michigan's warmth and humidity to Northwest Indiana, that Midwestern pocket of steel mills, car dealerships, public parks with their monkey bars, worn patches of lawn beneath swings and at the ends of sliding boards.  There were picnic tables that had seen their share of potato salad, and Indiana green bean casseroles, as well as molded plaster Indian heads, painted by the same kids at Hammond's day camps, who wove little pot holders on hot July afternoons for their mothers, aunts, and school teachers.  It was at that time the only place on earth I knew, even though in the fall of 1963 I had already been on our high school senior trip to New York City and Washington, D.C. Though it was a familiar place, Hammond was a town, where I had always felt a bit out-of-step, in terms of my social life.
My "social life" in high school was hardly worth using the term.  A nerdy, withdrawn kid with eyeglasses, and uninterested in sports beyond a game of chess, I was usually content to observe what I thought were the "cool" people, from a distance of several light years, as though through some powerful telescope.  The "cool" set, as I believed them to be at that time, were the ones considered good looking by our standards of the early 1960's, which meant girls, who looked even remotely like Sandra Dee, Yvette Mimieux, or Annette Funicello, and boys, who resembled in any way, Troy Donahue, Frankie Avalon,  Tab Hunter, or Elvis.  As in most other fashion eras for teens, clothes had to reflect the styles that were current.  This alone was enough to put me completely out of the chic crowd, as I was still wearing neckties my dad had worn while dating my mom in the early 1940's.  My receding hairline surrounding the widow's peak made me look like Eddie Munster, unless I combed the hair down over my forehead, like bangs, which made me look suspiciously like Mamie Eisenhower.  Add to those examples of visual revulsion my clumsiness at sports, or my tendency to trip, even while walking down an empty hallway or across a clear gym floor, and you have someone, who if not absolutely invisible, was certainly not going to win any popularity contests, at least not on this planet.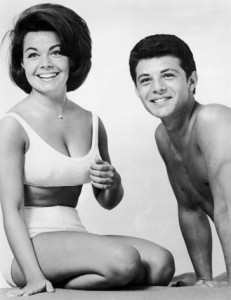 My best friend was Lawrence Fricke (pronounced Fricky), and no, he did not go by the nickname of Larry.  He was an absolute Lawrence, who at age sixteen had already appeared to be forty.  Tall, lanky, and wearing thick eyeglasses, perfect for starting fires on camping trips, Lawrence wore clothes I suspected had been handed down to him by a grandfather or great-grandfather.  They made Lawrence look like a docent from the Smithsonian Institute , who had somehow got lost from one of the tour groups he was instructing and ended up in the halls of Gavit High School in Hammond, Indiana, lost as last year's Easter egg.   We were both good students, which increased our popularity at school about as much as our stamp collections, or certificates for good dental hygiene. We were admittedly hopeless, which is probably why we became inseparable friends, cemented further by the fact that Lawrence's father had been an alcoholic, killed in a drunken automobile accident in 1959.  This, even by itself, was enough for Lawrence to become my trusted confidant.  Our shared impressions and recollections of our fathers made them both seem in some ways to be the same man.  The result was that Lawrence and I were like brothers.
It was important for me, as well as for Lawrence, to have someone to confide in.  We shared memories of our fathers and their terrible addictions, able to laugh at some of them, like the time Mr. Fricke had set off a box of fireworks inside the Bluebird Tap on Kennedy Avenue and cleared the place for over an hour, or my father wearing a tuxedo at the wedding reception of a friend, singing, near the end of the evening, "For He's a Jolly Good Fellow" from the top of a tree in the courtyard before being driven home by the concerned best man from the wedding ceremony.  We shared our recollections of the horrors too of having alcoholic fathers, but it all meant that for the first time, I had someone my age, who understood.
That summer would be our last one before my heading for Muncie, Indiana, and Lawrence on his way to Evanston, Illinois to Northwestern University.  We both had summer jobs and college reading lists to plow through.  I had been dating a lovely girl named Barbara Parker for two years, but I had never become close enough emotionally to reveal what I believed at the time were the dark secrets of my family's bout with Dad's being an alcoholic, so Barbara remained distant, especially after we left for separate colleges.
Lawrence met a girl named Angela Harris at Rand McNally, where he was working part time and developed an almost instant crush on her, but was afraid to approach her with any request more intimate than asking the time of day.  He even spent time in bookstores and libraries, poring over any books or magazines that gave information on "successful dating."  The hitch for him was that he saw almost any challenge as something that could be met in the same way he worked out chemistry or physics problems.  He thought there was really no conflict that couldn't be overcome by finding a workable answer in a book somewhere.  Not surprisingly, this rather mechanical view of problem-solving failed usually to bring him much joy in the human relations department , particularly for dating, but he seemed determined to win Angie over, and by some miracle, that made me think briefly that Lawrence had made a secret journey to Fatima or Lourdes over the summer, he managed to get a date with Miss Harris.
Against all odds, that were equal to one's winning a $100, 000, 000 Lottery, or having cocktails and lunch with the Pope, Lawrence and Angela actually hit it off, she being charmed by his amusingly nerdy innocence, and he by her sweet nature and striking beauty.  This gave me hope for the human race in general, and for me in particular, even though that hope didn't achieve true fruition until my 20th, 30th, and 40th high school class reunions, each one showing in more vivid ways than the previous one the sheer folly of my teenage years in believing that the "cool" set would always be fabulous and remote creatures, worthy of photo shoots for national magazine covers, and interviews by Barbara Walters, and Mike Wallace, based solely upon the absolutely cool, if snobbish, elegance they had all displayed with such verve during our years in high school.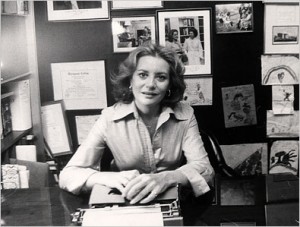 Bob Strack, the Greek god, who had been star of the basketball team, suffered most in the "good looks" department over the years, arriving at our twenty-year reunion in a rusty old Ford Pinto, and looking like Gabby Hayes.  I didn't recognize him until Cathy Farrell, a once gorgeous cheerleader, who now looks the spitting image of Barbara Bush on steroids, pointed him out to me. To my intense and everlasting joy, the people who had "held up" best, were the nerds, like me, whose looks had somehow improved, as though Father Time hadn't thought us cool enough even to bother with.  Each reunion brought a coup that sent me back into the world with increasing confidence, that I had no "spare tire," or baldness, or those awful aging teeth that sometimes make folks look like smiling jack-o-lanterns.  I'd like to think that this sweet revenge was not at all mean-spirited on my part.  I mean, I wasn't personally responsible for former cheerleaders, Fay, Marcia, Patty, and Sheila looking like the cast from The Golden Girls, was I?