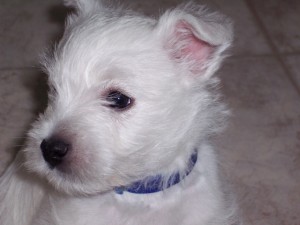 I'm not an expert on dog allergies, but I do know that some breeds, like West Highland White Terriers are prone to have skin issues.  Dudley is my second Westie, a cheerful dog of keen intelligence and loyalty, and one that is as happy on a farm as in a suburban apartment, as long as he is with his master.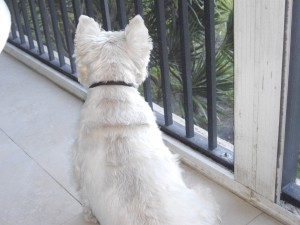 The problem is sometimes that most dog foods contain additives and other ingredients that can act as irritants in some dog digestive systems, resulting in itchy skin and major bouts with scratching.
In Dudley's case, chicken bi-products, wheat, some meat proteins, and certain preservatives must be avoided in order to stave off the unpleasant experience of itching that leads to scratching and possible infection.  I've discovered through trial and error and help from Dudley's vet that Natural Balance sweet potato/white fish formula in dry and canned form is effective in protecting Duds from skin issues, even though he needs to take a Benadryl before bed each night to keep him comfortable.  Dog treats often contain wheat, but there are a few that do not, such as Blue Buffalo and Zeke's Chew Sticks.
Paying attention to the effects of your dog's reactions to various foods makes a huge difference in his comfort level, making him a much happier pet.  The extra money necessary for better quality food is well spent, because every dog should be a member of the family and deserving of as much love and affection as that family can give.  JB