I've been here in Pompano Beach since December 6, 2012 and am growing more accustomed to my winter home with its warmer climate and more relaxed inhabitants. I love my summer home in Colorado, but Florida is where I belong in winter.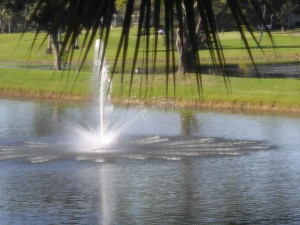 There are times when sitting in my terrace room, I have to pinch myself into the reality that I'm looking out at a golf course on the other side of a charming little lake visited daily by various birds, including egrets, herons, and ducks.  That protected ecosystem is a peaceful reminder that there are other environments, that don't include human traffic jams, useless rushes to get somewhere else, the annoying intrusion of cell phones, conversations the rest of us don't want to hear, and blaring television sets playing silly programs, like "The Wrist Watch Channel."  Drinking my coffee each morning in that room with that view gives me a different perspective on everything else and energizes me by putting me in touch with nature at her best.  There's something glorious and inspiring about seeing a flock of snow white herons resting on the lake's banks and then seeing a flash of white wings against a blue sky.  What better way to begin my day?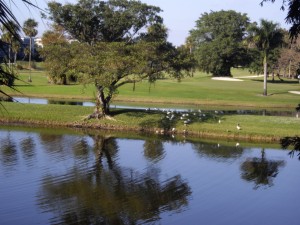 I have binoculars so that I can watch the golfers on the other side of the lake and their struggles in an out of sand traps and the occasional temper tantrum, sometimes from old men wearing Bermuda shorts, Izod polo shirts, straw hats, black shoes, and black socks.  Those scenes make me wonder what the herons think of it all.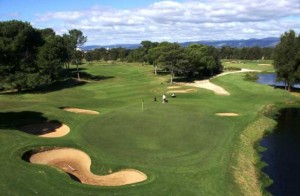 I've met many of my neighbors, mostly retirees, who are wonderful people, always taking time for a little chat and to make a fuss over my Westie, Dudley, who loves the attention.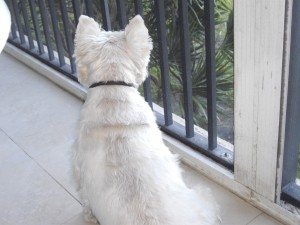 With the help of my GPS, and friends, I'm slowly learning where things are down here and the best routes. People seem generally friendly and less in a hurry than in places I've lived up north.  The other retirees I've met savor time and rarely seem rushed. Of course, that should be an important component of retirement anyway, but that's not true everywhere else.  That's probably one of the reasons people down here live longer than in other areas of the country.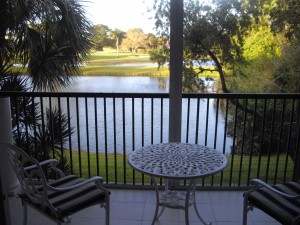 My first week here Last December was warm and humid, due to the pocket of Caribbean air that blew away after a few days.  I haven't needed the air conditioning since and have been able to leave my windows open for cross ventilation from the Atlantic Ocean breezes. Daytime temperatures are usually in the seventies or lower eighties with night time temps in the fifties or sixties.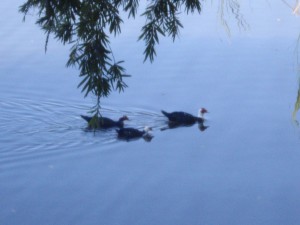 I feel more physically active here and play Bocce Ball every Friday morning from ten 'til twelve.  I hope also to start some regular card groups for Canasta and pinochle, as well as for Mexican Train dominoes. I and three friends are planning a rotation of Sunday dinners, each of us preparing a meal for the others one Sunday per month.
Do I miss the snow and ice?  I miss only those times in Colorado, sitting with a cup of hot cocoa beside a fire, looking out at a snowy landscape.  I don't miss shoveling snow and using a snow thrower with a scarf over my face when the temperature hovers around zero.  Snow scenes that charm us are found usually just on Christmas cards, not with snow plows, overturned cars, and the dirty slush that snow becomes so quickly after its first and ephemeral moments of pristine beauty.
I end this entry as I look out over the ripples on the lake, my dog Dudley watching a family of ducks gliding past our terrace window.  JB