When I was still teaching, I used to see July as a safe little haven as far away from May as it was from September.  July was like a pleasant little island floating in the midst of a blue and shimmering respite from school.  I'm fairly certain that many students felt the same way about it.
Now that I'm retired, summer months run together into a warm clump of days that lead to autumn, a time that for me has also changed.  The "Back to School" ads don't have the negative effect they used to have, when I longed for summer vacation to stretch out just a little further as Labor Day approached. When I was a student, summer always seemed a kind of parole that ended in early September, when we would all have to wear long pants, clean shirts, shoes, and carry loads of books to and from school again. It's interesting how our views change as we age and our circumstances take new directions and values.  I do remember that as a student and then as a teacher, I was keenly aware of the smell of newly waxed floors, chalk dust, and the bleached aroma of the rest rooms, the sounds of new books being cracked open, and the ringing of bells twice an hour.  Those sensory recollections are still intact, along with the memory of changing colors of trees as autumn approached, turning branches at last into black lace against gray skies and white snow.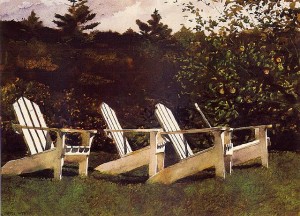 Summer is still like a long exhale from previous months, a time to laze in the shade with iced tea and lemon cookies, the sounds of birds and cicadas giving a kind of percussion to the fluttering of green leaves and dancing water from lawn sprinklers. The jingle of ice cream trucks gives me the same feeling it did when I was a kid.  Maybe we're all still kids during this time of year.