HAVING PETS AND LOVING THEM
Dudley is my three-year-old West Highland White Terrier, named after the angel played by Cary Grant in the 1947 film, THE BISHOP'S WIFE.  Duds is affectionate, curious, funny and, at times, somewhat demanding in his need for attention. When he was smaller, I put doggie steps next to a sofa in the den so that he could easily climb up to nap or relax with or without me helping him up.  He has recently discovered that he is quite capable of getting up onto almost any chair or sofa in the house without those puppy steps. The look on his face the first time he made it up on his own was priceless and spoke of revelation on a grand scale. Even Riggs, our cat, was surprised when Duds leaped up to sit with him on a sofa the cat thought was entirely his own.  Riggs just stared at the dog for a long time as if to say, "And what the heck are you doing up here?"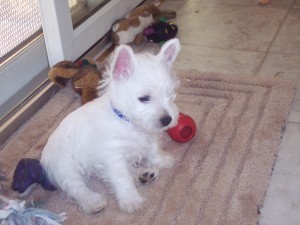 Riggs likes to startle Dudley by hiding around corners or behind drapes so that he can jump out suddenly, which makes the Dudley spin around in a state of confusion before chasing Riggs through several rooms before Riggs goes upstairs to sit quietly with his front paws crossed calmly while he watches  Duds continue running in circles until he figures out that Riggs is just above him snickering at what the cat considers a rather slow wit.
Riggs was already eight years only when Dudley arrived as a puppy of ten weeks.  Riggs from the very first day was gentle with Duds, who Riggs knew was only a young, dumb critter that would be no threat.  There was no hissing or scratching at all, just the gradual bonding of the two over time, each becoming a part of the other's comfort zone.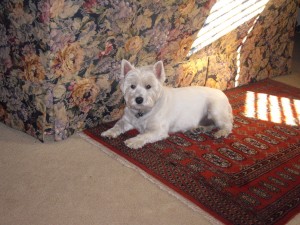 Riggs and Dudley seem to take turns chasing each other, then tumbling around on the floor together, like wrestlers.  Riggs has never used his claws against Dudley, and they are actually buddies, providing themselves with exercise and ever-new ways to outwit each other.  Pets like Duds and Riggs add so much to the house with their daily shenanigans and their settling down at the end of the day to sit in the human laps they crave as their favorite resting places.  Every once in a while, they can both be seen sleeping in curled up positions next to each other, Dudley snoring, and Riggs purring away in a kind of contentment that brings an unparalleled tranquility to the house.  Their heartbeats add so much to the domestic joy of the household.  They make the house a real home.