I suppose this may turn into some kind of confession, but it would be seen as such only by people who see me on the train, walking down the sidewalk or in a grocery store. Strangers might not guess that I have an obsessive compulsive disorder.
My friends and family are well aware of my frenzy for a sense of harmony and order, though I don't impose my mania upon others, except maybe my partner Jim, who doesn't dare leave an unfinished drink on a table for fear of returning a moment later to find the glass washed, dried, and put back into the cabinet, or a clean shirt innocently draped over a chair and being found just seconds later in the dirty clothes hamper upstairs. I don't do these things to aggravate others. My actions are simply automatic responses to what my mind (or what's left of it) sees as parts of my world being in some way out of alignment.
Part of all this nonsense is based upon my excessive desire to be able to find things right away when I need them and not to see them scattered about. An avid fan of the TV show Hoarders, I am repeatedly fascinated by people whose lives seem to have no anchors of material organization and for whom even finding the household vacuum cleaner can mean calling in a team of professionals to do a major search, while wearing masks to avoid the fumes from the pumpkins and grapefruits that have been on the kitchen counter since 2003. Of course, those hoarders might see me as an extraterrestrial creature too, one that organizes linens and pantry items by color. Maybe a TV show about obsessive compulsive folks like me would entertain the crap out of hoarders. Who knows?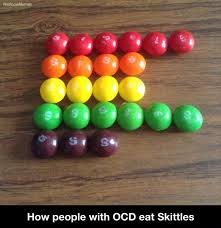 A friend told me last week that I was so OCD that I should really be labeled CDO, only because of my inclination to number or alphabetize everything in my home. Though Don was spot on regarding the issue, I was a bit put off by his remark, because I see myself as being politically liberal, generous to friends, family, and worthy outside causes. I would never dream of judging or criticizing organizational habits of friends, even if those habits resembled those of Ma and Pa Kettle.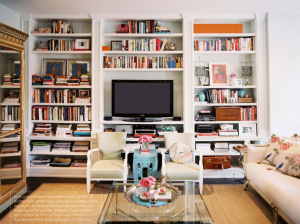 I admit to being Felix Unger, and I believe that Jim would have to admit being Oscar Madison. I make sure that Jim's wallet never goes through the washing machine cycle, but he solves problems involving plumbing, carpentry, and electricity. He asks me almost hourly where things in the house are, everything from an electric drill to a paperclip, and I invariably know the location. Our two worlds collide in practical ways, as one partner takes care of the other, always defusing anger that for other couples might mean one of them being found eventually buried under a freshly poured concrete driveway.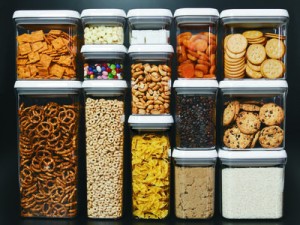 The advantages to someone living with an OCD person are that there will never be dirty dishes in the sink, that clean laundry will be folded neatly and organized in drawers and on coat hangers, that there will be clean windows, carpets, and floors, and that everything in the house will have its place in an environment of comfortable, physical stability. The downside might be that the Oscar Madisons in these households will feel, by contrast, even more like slobs than they ever did before.
If it were up to Jim to organize the house, it would contain stray shopping carts found on the streets and filled with our worldly possessions. Our tax records and other important documents would undoubtedly be stored in old pizza boxes, possibly by year but more than likely by the dried pizza toppings on the outside of each box.
I shudder to think of the rebuttal Jim might create in response to my little diatribe, but if he writes one, I'll be glad to post it, if only in the interest of sequences, organized communication, and humor itself.    JB